Stephanie (Wagner) Gongaware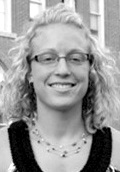 STEPHANIE WAGNER-GONGAWARE, Jimtown High School (2007)
Led high school basketball team to state finals in 2007, led Quincy University basketball team to No. 2 regional ranking in 2011.
Jimtown basketball – Four-time all-Northern State Conference selection. Set 19 school records including 1,768 career points. Also had 553 career rebounds, 205 steals and 135 assists. Made 583 of 678 free throw attempts. Selected to North All Stars.
Track and field – Named all-NSC athlete four years. Four-time regional qualifier in pole vault, set three school records.
Cross country – Four letters, twice all-conference.
Coaching – Currently women's basketball assistant at Quincy University.