Sam Hoover, Jr.
Sam Hoover, Jr., Middlebury High School (1944)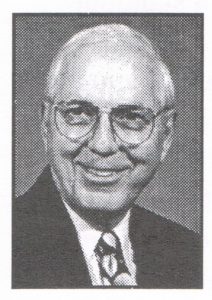 Starring at Middlebury in the early 1940s in basketball and baseball, Sam was later offered a professional baseball contract by the Chicago Cubs and Cleveland Indians in 1948. In between, Sam served the U. S. military and pitched for Kobe Base, American League of Japan in 1946.
In high school, he pitched and lettered in baseball four years and the Middies were county champions three of those years; in his junior year, he pitched seven (including two no-hitters) of the eight Middie victories and in 36 innings allowed 19 hits, struck out 68 and compiled an ERA of .014. In basketball, he lettered three years and scored 408 points; high game of 15 points as a senior.
Sam played baseball at Indiana University for three years, lettering in 1950.