Eric Eaton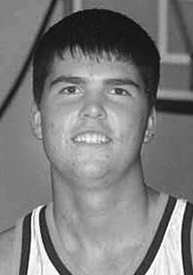 ERIC EATON, Northridge High School (2004)
Played for Raiders' 3A sectional basketball champions in 2004. As a junior, played in summer against Indiana Senior All-Stars. Played in 2007 NAIA national tournament. Scored 1,114 career points at Northridge.
Freshman year – Goshen News all-area honorable mention. Averaged 7 points and 4.5 rebounds per game.
Sophomore year – Averaged 13 points per game. Named to 3A all-NorthWood sectional team, named Elkhart Truth all-area honorable mention.
Junior year – Averaged 16.7 points and 7.7 rebounds per game. Named to all-NLC first team, Elkhart Truth all-area first team, named team most valuable player.
Senior year – Averaged 13.6 points and 6.2 rebounds per game. First team all-NLC and first team All-Area by both Goshen News and Elkhart Truth. Team most valuable player and all-tournament first team for 3A sectional won by Raiders. Selected for Top 40 workout.
College – Three-year starter at Saint Francis. Team captain as senior.